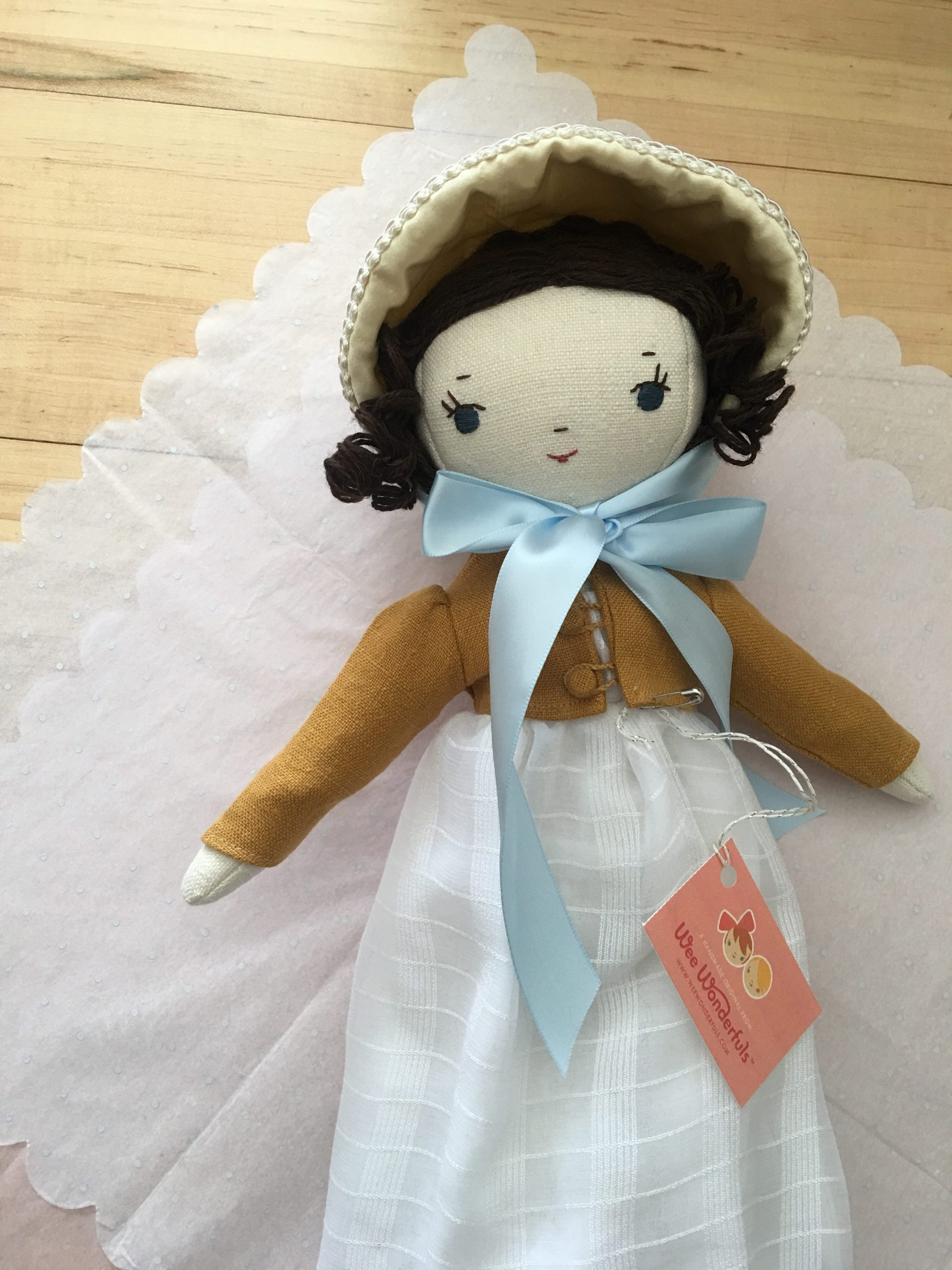 I love making art dolls based on literary heroines. I've made Laura Ingalls Wilder, Jo March, Anne of Green Gables, the three friends – Betsy, Tacy & Tib, and Jane Austen heroines Elizabeth Bennet & Emma. I really enjoy the challenge of capturing not only their look and spirit but also tackling the historical costumes. I think in a parallel universe I am a costume designer. And in that reality I know all the historically accurate details of every era. In this reality, not so much! I'm driven by my love of the pretty dresses I see in movies and my desire to get things right *enough*. Without going down too many rabbit holes I try to get the dress silhouette and the fabric as close as I can using  costuming sites,  movies or whatever books I can find in my public library for reference.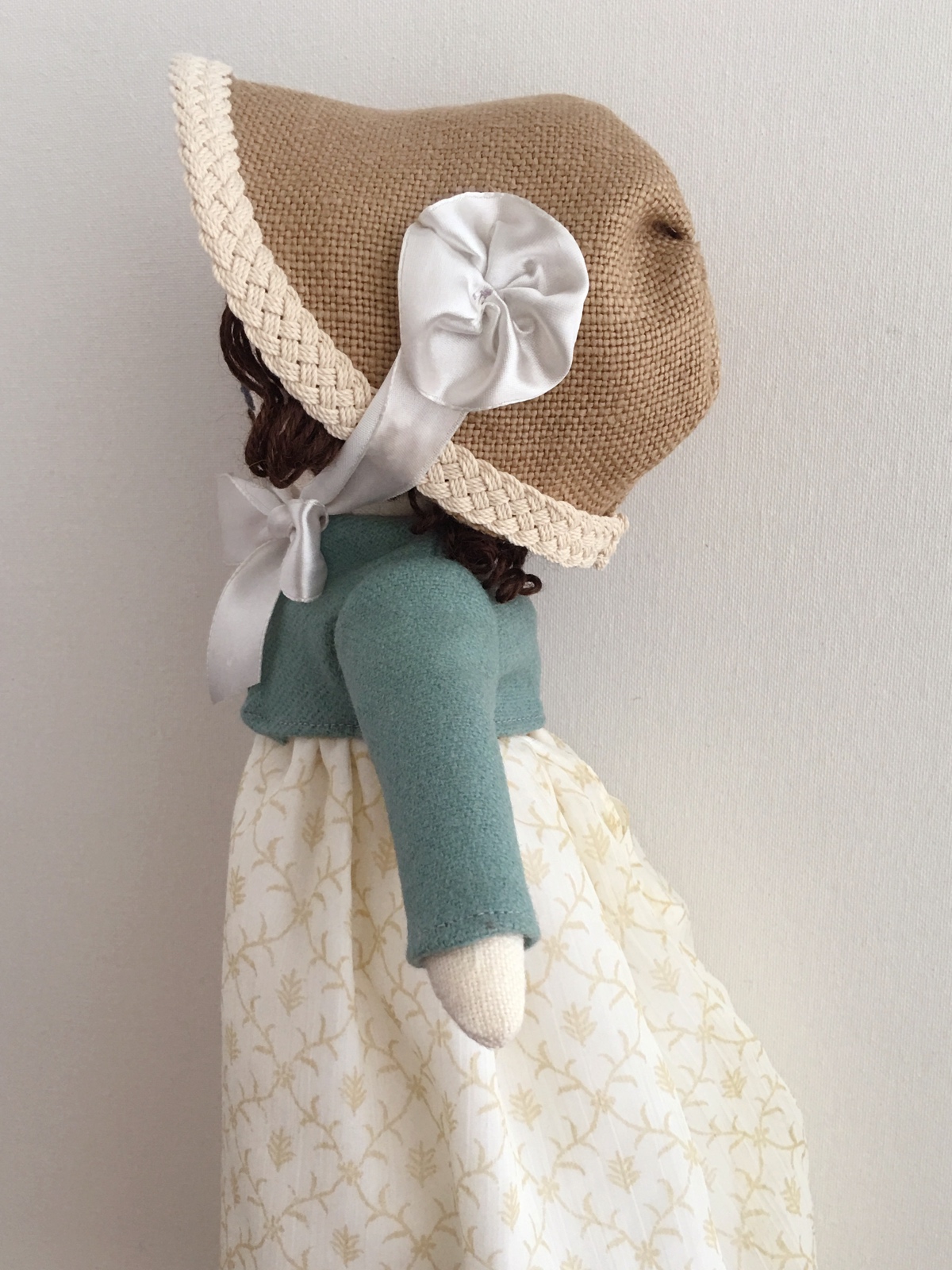 For my Jane Austen dolls I was pretty much channeling my love of the 1995 Pride and Prejudice and trying to recreate those costumes as closely as I could. This is when I discovered this super fun site, Frock Flicks and their post on P&P. I realized none of the choices at the fabric store were going to work for the muslin dresses I was trying to reproduce. Quilting cottons are too stiff and reproduction fabrics, which at first seem like a perfect solution and may work for actual people costumes, are not doll sized scale. Then I read that Dinah Collins had her fabrics custom stamped (see video link below) and I tried briefly to carve some stamps and try my hand at printing my own. But I was quickly derailed by how small the stamps would have to be and the loose weave of the light weight fabrics I was using. So I hit the thrift stores and that's where I had the most luck.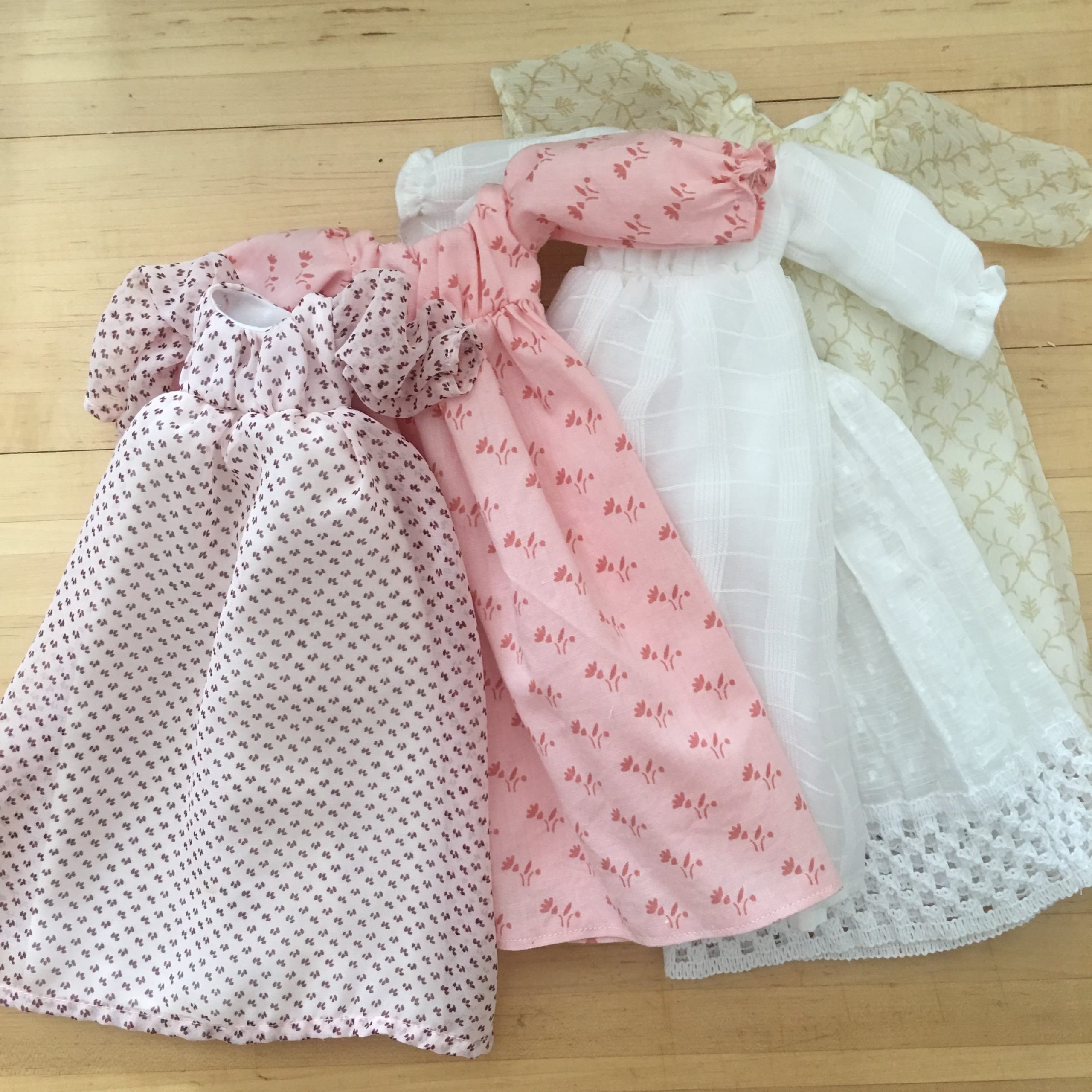 I needed very thin, gauzy cottons so I looked through blouses and skirts and found some great prints that could read as 19th century sprigged muslin dresses. Thrifted blouses and skirts are also great for laces, cottons, and pieces with nice inserts and details that make a small doll skirt look deceivingly intricate. It can also be easier to find soft, lightweight, tightly woven cottons in garments at a thrift store than at a chain fabric store.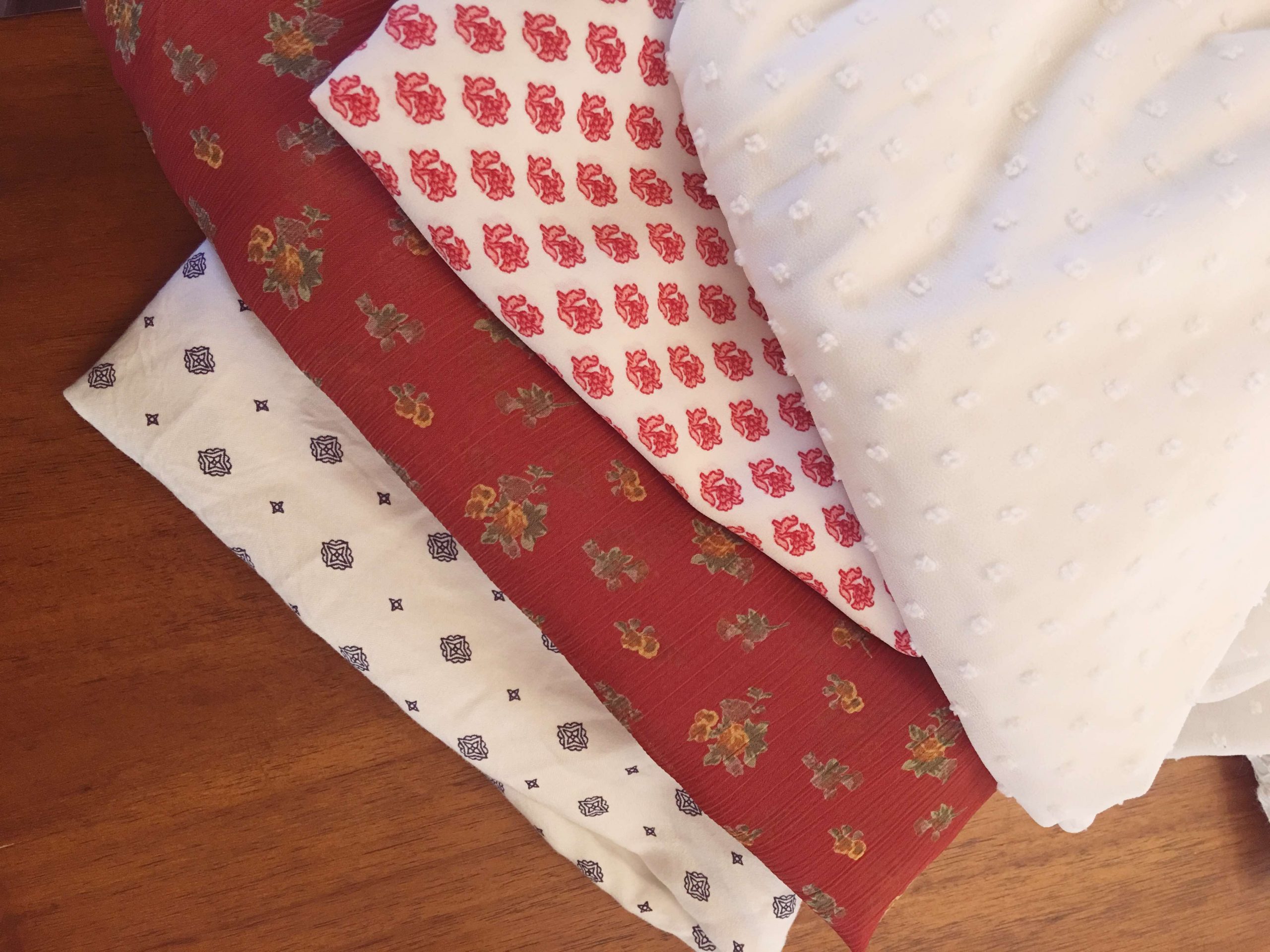 It's always exciting to follow a lark and end up obsessing over the details of a new creative endeavor. I always start on a whim and then I come up with a game plan for them after. I was making an Elizabeth just for me and my craft room shelves and then decided to sell a limited series in my shop because I wanted to make more than one dress.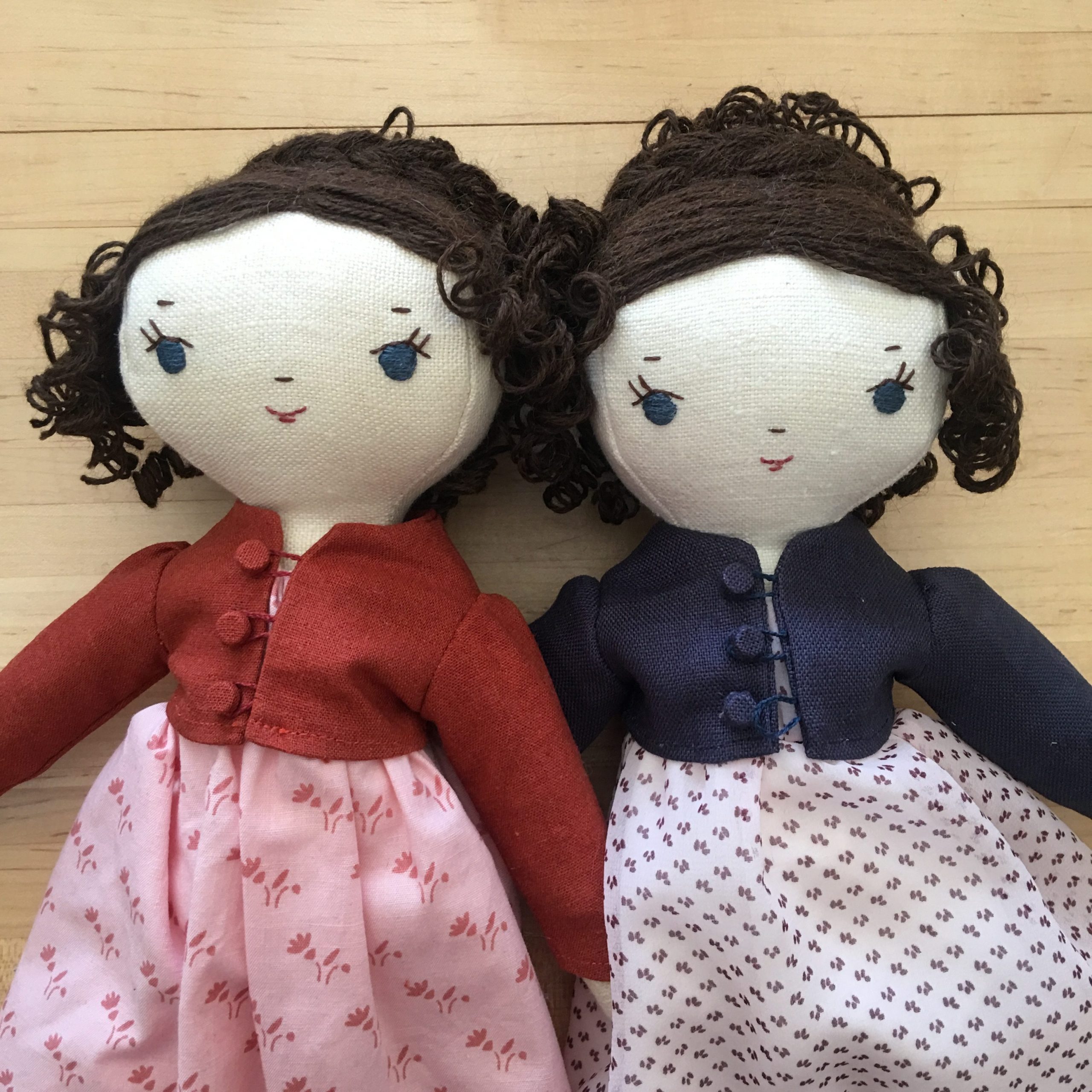 As far as tiny details in doll clothes go, I'm a moderate. These art dolls have slimmer arms and smaller bodies than the dolls I sell patterns for so the sewing is definitely more fussy and more small scale, but it's still nowhere near as tiny as clothes made for dollhouse or Blythe dolls, of which I'm in complete awe. I don't really have a customer base that would support super elaborate, very expensive dolls so I always hit a sort of invisible line of how much time can I spend on something before I get back to reality and that keeps the costumes I make within a certain level of ambition. Regency style works within these limits because it is relatively simple design and materials. I figured out a basic dress design, the jacket (spencer), boots because Elizabeth is always romping outside and the bonnet.
I would love to tackle something like Edwardian or civil war era gowns but that would mean sewing with fabrics like silk and getting really into tiny frills and way more complicated dress construction, fascinating but slightly terrifying trying to imagine how to get that all right. Am I talking myself into it or out of it?  And how to find the right fabrics for that! Daunting considering the month I spent scouring thrift stores looking for the perfect persimmon-colored floral print to make my favorite Elizabeth Bennet dress.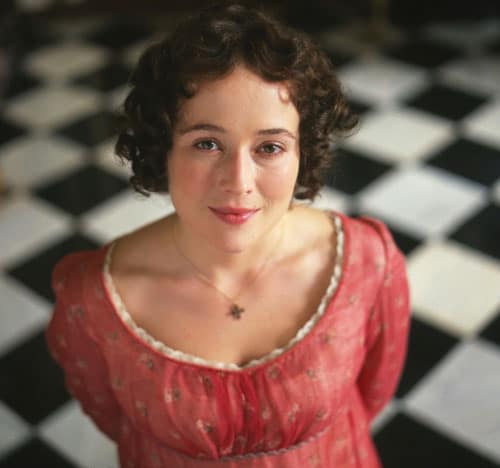 I am getting close with this dress below. It's a reproduction print quilting cotton so it's stiffer than I'd like. (Oh! and I went through a whole thing experimenting with ways to sort of break down and soften up quilting cottons… borax, tennis balls in the dryer. That never really panned out.) So I'm still on the hunt for the perfect mini print on sheer fabric in that just right, pink color. That's why I picked up that red blouse in my latest thrift haul in that picture above. Closer, but still not quite it.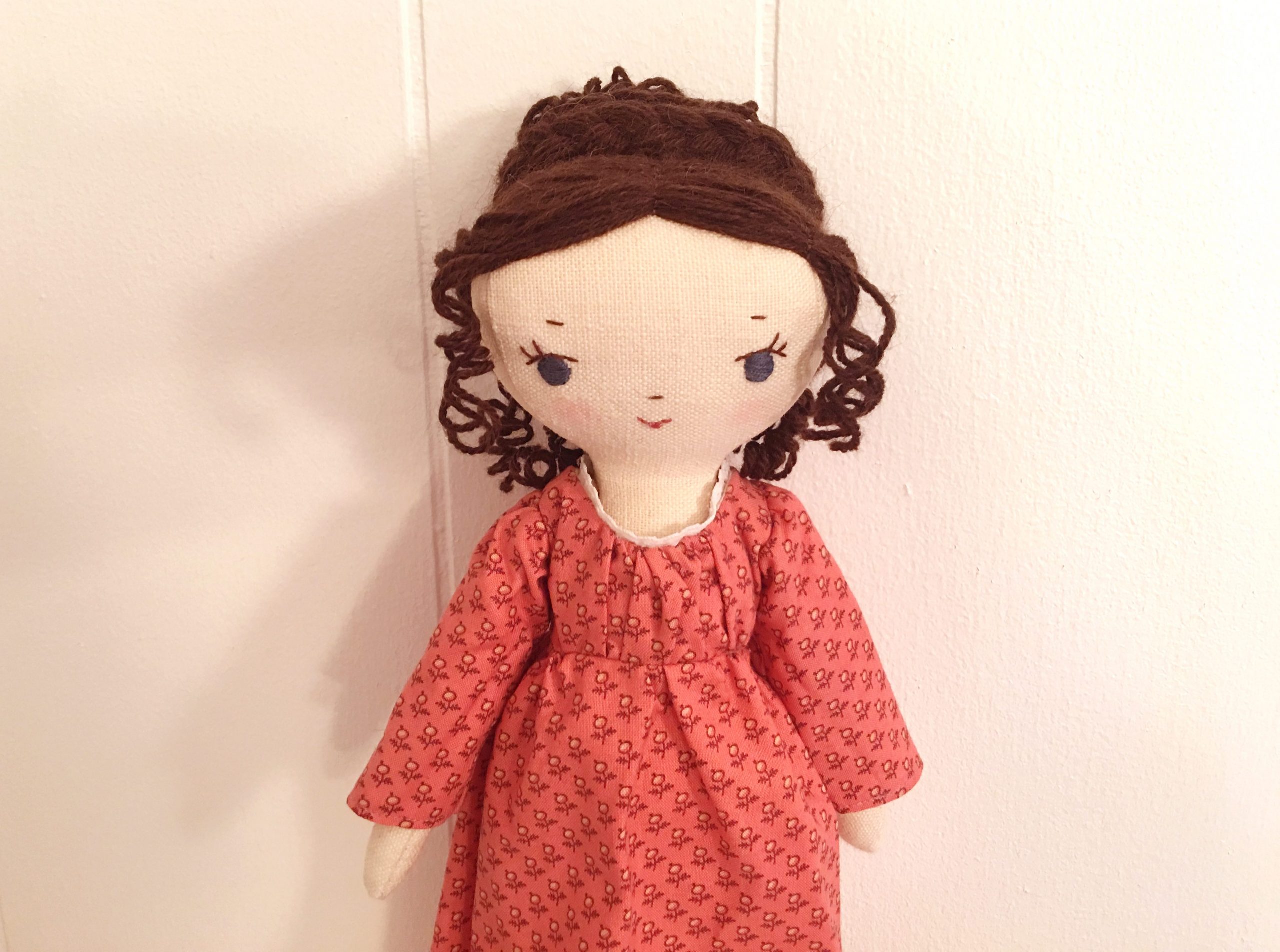 Here are some fun trips down the rabbithole:
Dinah Collins discussing costuming for 1995 Pride and Prejudice. (begins at 3:38)
Half Dress, Full Dress, Undress, what?? 
Interview with cast & costume Designer Rosalind Ebbutt of the 2009 version of Emma. I loved the costumes in this movie but was confused by why they were so colorful compared to other regency era period pics. They get into it. Also I stan Rosalind Ebbutt bc she did one of my all time favorites, The Buccaneers!
"Undressing your heroine", so interesting! I'm actually on the right track with my Emma doll. I wanted to make something that was stand-alone cute so made this petticoat/chemise hybrid but it actually sort of looks like the petticoat on this site so, yay!